You are about to embark upon a journey into the far, uncharted reaches of your imagination.
For the time being, I invite you to suspend all that you know to be true about physical reality, and through your mind's eye, reach beyond, and if for only moments, glimpse a reality even greater.
Find a place where you'll not be disturbed, place your body in a comfortable position, and close your eyes.
Become aware of your breathing, and as you do, notice your breathing becoming deeper and slower.
Observe each breath, as you inhale, and exhale, and notice the pause between each breath.
You're becoming more and more comfortable and relaxed, and letting those good feeling stay with you, as you become lighter, and lighter.
Imagine you're going to your front door, and stepping outside.
As you look down at your feet, you see that the ground is quite different than you expect.
And when you look up, you see that the entire scene has been transformed.
You're now high in the mountains, standing at the edge of a small clearing.
It's a beautiful sunny day, and the air is fresh and clear, as if there had just been a light summer rain.
The subtle fragrance of wildflowers is here, and you see their delicate blossoms, amid mossy rocks and grass.
Take a full deep breath, and feel your whole body loosen and relax.
Your cares and concerns are melting away in the warm sunlight, as each new breath carries you deeper, and deeper into the comfort of this place.
As you feel your breath gently rise and fall, look out at the beautiful scenery before you.
From where you stand, you can see far into the distance on all sides, with nothing overhead but the infinite blue sky, and perhaps an eagle soaring silently above.
Something else is approaching overhead, that's hard to identify at first.
But as it draws nearer, it appears to be a saucer-like vehicle, at times silver, and at other times clear, or sparkling white, as if made out of light.
The flying ship comes closer and closer, until it noiselessly settles down in the middle of the clearing where you stand.
The vessel opens, and after a moment, a very kind looking being comes toward you.
You see that his body is not solid, but a light-form, like the ship.
His face is peaceful and friendly looking, and when he greets you, saying your name, his voice has a warm, pleasing quality.
He asks if you're ready for an adventure, and when you reply that you are, he cordially invites you aboard his ship.
As you enter this unusual vehicle, your host bids you to make yourself comfortable and at home.
Soon you feel the ship gently lift off the ground, and in another moment you're traveling high above the land, and heading deep into space.
Look out at the vast galaxy appearing before you.
The infinite points of light spread out across the sky, and you marvel at the performance of this flying ship, with its ride so amazingly fast, yet so smooth and comfortable.
There's a feeling of total security here, and of new possibilities yet to be discovered, as you travel deeper, and deeper.
Your guide now begins to tell you about himself, and his planet.
"I'm very glad you've chosen to join me," he says, "for it will give me great pleasure to show you my home, and to offer you energy, for what you would call 'healing'."
His words seem to flow into you, without actually being said aloud, and resonate inside your mind.
"I am a Lightbeing," he says.
"I exist in a dimension less dense than your physical world, and so I'm able to move much more freely than a physical body would allow.
Because of this, I can also communicate with you through your mind.
This ship is really an extension of myself, formed of the same light-matter as I.
And within it, we can travel safely to my home, and when you are ready, return.
"Upon my planet, my race has evolved in a different, parallel life form to that of your race on Earth.
But whereas your race is centered in physical matter, our race dwells entirely within the higher vibrations of light and sound.
Our bodies are made of this vibration, as are our cities.
On your planet you create with physical matter.
We use our mind energy to create in the higher realms.
When you're in a state of higher consciousness, as you are in this journey, you can experience our reality."
As your guide finishes these words, you begin to hear an unusual and very pleasant sound, quite unlike anything you've ever heard.
It's as if your ears begin to hear in a new way, allowing you to receive this higher frequency.
You become aware of sounds within sounds, and are amazed at the complexity of what you're able to perceive.
Where the sounds seem as if they couldn't possibly become any more complex, they transform into visual images, forming the outline of a fantastic landscape.
As this landscape comes more fully into view, you find it unlike any you've ever seen, its colors alive and practically singing out to you.
"This is my planet," you hear your guide say, "and you are beginning to experience the world I've described."
As the ship gently lands, you realize that you've come to a setting in some ways similar to a country meadow on earth.
Here, however, everything appears more fully vibrant and alive.
And when you focus on the images before you, you discover that they're also filled with sound.
Your guide leads you to a nearby structure, appearing to be made of crystal.
"This is one of our healing places," he says.
"On our planet, we've come to understand health as the balanced flow of life's energy, as illness as merely a blockage of that flow."
"Then, how do you heal a blockage of energy," you ask.
"With light and sound," he replies, "and with love."
As you stand in the center of this crystal structure, be aware of your own body and its flow of energy.
While on this planet, you've become almost translucent, like the Lightbeing, and able to see, hear, and feel movement of color and sound within your own body.
Before long, you also feel a gentle warmth flowing into the healing structure, joining with your own energy.
The crystal is beginning to activate, sending in a series of colors, beginning with a beautiful rich red hue.
The red color swirls and flows all around and though you, bringing a wonderful feeling of strength and vitality.
Now the light begins to flow orange, and you can feel yourself merge with this color, as it brings you a stabilizing quality.
Soon the orange color begins to lighten, until it becomes golden yellow, a color that flows into your mind, bringing perfect clarity to all your thoughts.
Now a beautiful emerald green pours forth from the crystal walls.
Feel the harmony and balance of this color, as you let it fill your entire being.
The green light changes to blue, and you feel this color's cool serenity permeate your emotions, and lift your thoughts higher and higher.
Now the crystal light glows a deep purple, and its energy flows gently through you, transmuting all negativity into love.
Finally, the light turns a pale golden light that contains all the colors, and it flows through you, bringing healing and balance wherever needed, for your highest good.
Feel this light caressing your face, allowing it to remove all traces of tension, leaving in its place peace, and tranquility.
Experience the light filling your head, and flowing down into your neck.
And feel it wash over your shoulders, arms, and hands, bringing deep comfort and calm, wherever it touches.
Now feel your chest, back, and abdomen open to receive this gentle flow of color, as it finds its way wherever needed.
Take a deep breath, and release all negativity into the light.
Let this gentle, multicolored energy flow into your hips and follow it into your upper legs, knees, lower legs, and feet, as these parts of your body come into perfect balance, and peace.
Take a few moments to experience this transformation in any part of you that you wish, as the crystal light energy surrounds and fills you, clearing away any impurity, bringing movement, wherever there is stagnation and lending balance and harmony wherever it touches.
Now tune into the sound of this healing energy, and hear whatever messages its positive vibrations may hold for you.
Your guide appears in front of you and is extending his hands.
With his touch comes the most beautiful outpouring of color and sound imaginable, flowing directly into your heart.
Drink deeply of this offering of love.
As you and your guide quietly walk back into the meadow, you hear his voice once again resonate in your mind.
"Your creative imagination has tremendous power," he says.
"Never underestimate that power, and always use it lovingly.
For the sounds and images within your mind are truly the music and scenery of your world."
It's time to begin your return home.
You and your guide enter the ship, and lift silently into the air.
As you travel back across the galaxy, give thanks to the one who has guided you.
And give thanks to yourself, for giving yourself this opportunity to relax, and discover new, more positive ways of being.
The lightship approaches your original departure point.
And as it settles down in the clearing, notice that you've returned feeling lighter, clearer, and stronger than before.
Step out onto the ground, and wave goodbye to the Lightbeing, knowing that you can return to his world whenever you wish.
Look down at your feet once again, and recognize the familiar environment in which your journey began.
Feel your physical energy becoming more and more present.
Let all the benefits of this experience stay with you, and when you're ready, open your eyes and feel completely awake, alert, and refreshed.
Create Meditations Like a Pro
Want to lead your own meditation sessions but not sure how to get started? Our guided meditation scripts are the answer!
They're designed to be easy to read aloud, whether you're addressing a group or flying solo. Plus, you can record your readings and share them online, and use them to spice up your own meditation sessions.
And if you want to offer a full meditation course, these scripts are perfect for that too!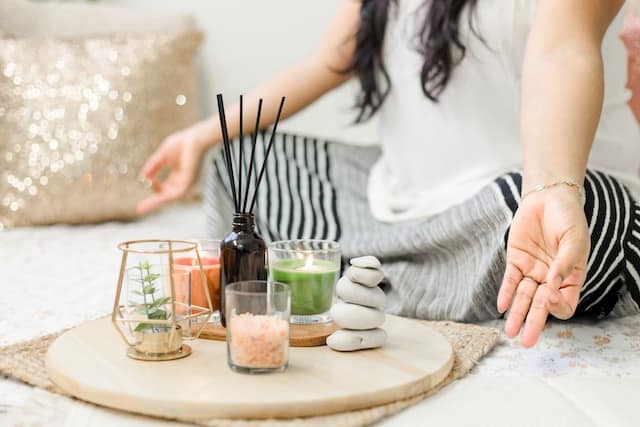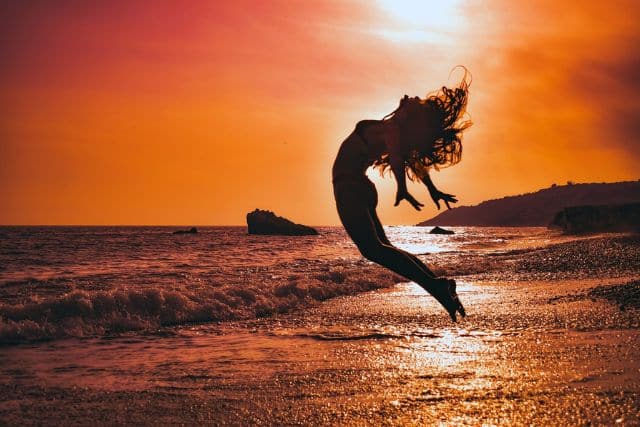 Boosts Your Confidence and Skills
Leading a meditation session requires much confidence and skill to maintain a calming and peaceful ambiance.
With guided meditation scripts, you don't need to worry about speaking what is on your mind.
Our scripts are designed to give you the right words at the right time, enabling you to build your confidence and deliver an excellent experience for your audience.
Helps You Create Audio and Video Recordings
Guided imagery scripts allow you to create high-quality recordings that you can share with your followers, clients, or sell as part of your business.
Whether you're creating YouTube videos that attract thousands of viewers or building a membership-based meditation course, our scripts are adaptable for various mediums, giving you infinite possibilities for sharing your work.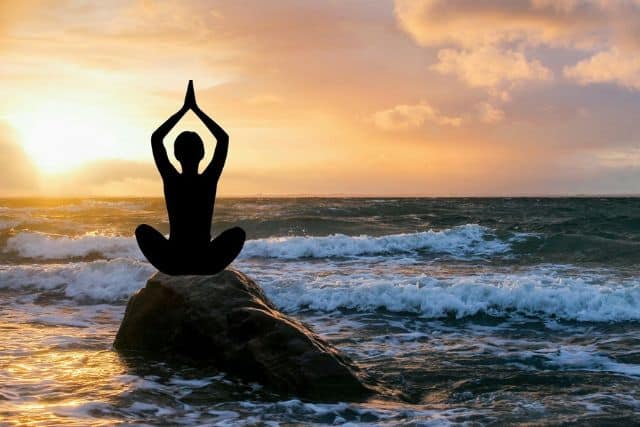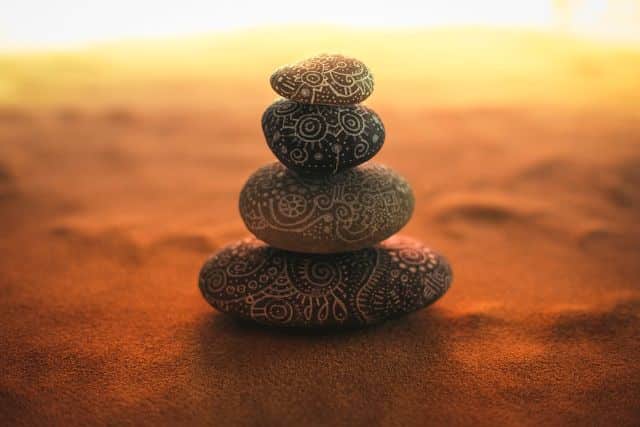 Increases Your Credibility
As a meditation leader, you want your audience to trust your abilities to provide a calm and peaceful experience.
Using guided meditation scripts increases your credibility and positions you as a knowledgeable leader in meditation.
You will provide your clients with quality instruction and reliable content that will put their minds at ease.
Provides Inspiration and New Ideas
If you're someone who struggles to come up with new and creative ways to lead your meditation, our guided meditation scripts will give you inspiration and new ideas.
You can use our scripts to focus on different aspects of meditation, like relaxation, mindful breathing, or visualization.
You can also add to or alter the script to suit your needs.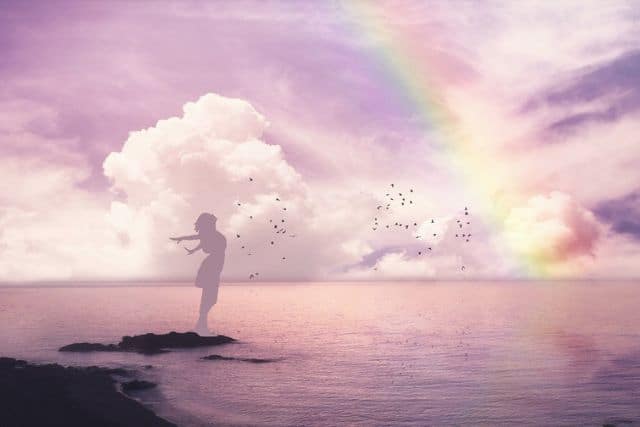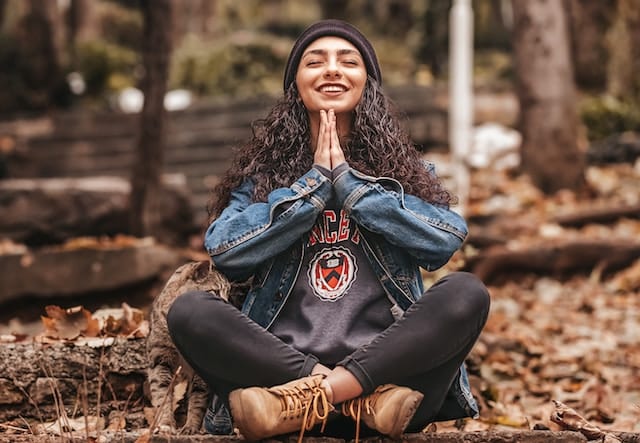 Who Are These Scripts For?
Whether you're a pro or just starting out, our guided meditation scripts are tailored to suit your needs. Perfect for:
meditation teacher or practitioner
yoga instructor
coach and counselor
therapist
mental health professional
psychologist and psychotherapist
voiceover artist
content creator
podcaster
writer
athlete
app developer
blogger
Our Guided Meditation Scripts Will Help You:
Improve your meditation-leading confidence and skills
Create audio and video recordings for your business
Grow your business by increasing your credibility
Find inspiration and new ideas for your own meditation(s)
Read aloud to individuals or groups
Enhance your self-improvement journey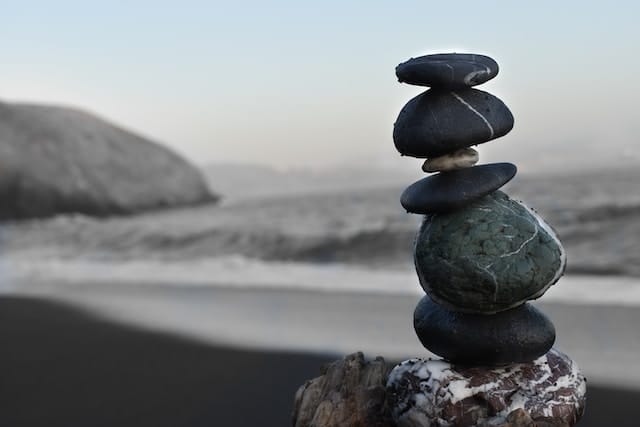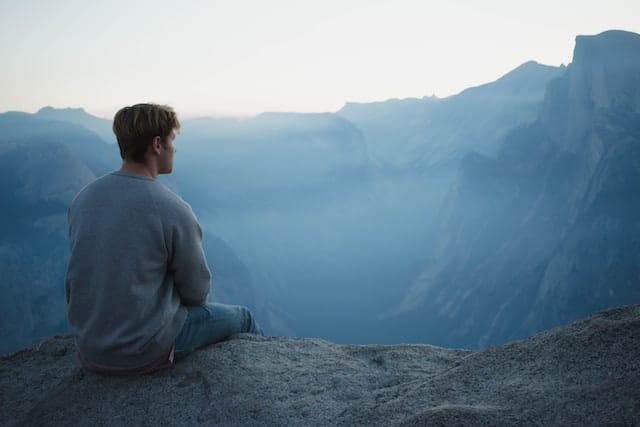 What You Will Receive
Get ready to receive gorgeously designed PDF files that are a breeze to read, follow, and comprehend. Say goodbye to confusion and hello to clarity with our easy-to-use format.
These scripts can help you increase mindfulness and reduce stress, anxiety, depression, and overwhelm using proven techniques and methods.
To ensure the best experience, we suggest using a desktop device for your initial download.
Royalty-Free
Create audio and video recordings that you can use for your business (including apps, YouTube, courses, and podcasts). You can share these recordings online and/or play them during sessions you lead
Grow your business
Use these scripts in courses you create, share, and sell
Use these scripts privately and with your clients
Edit and customize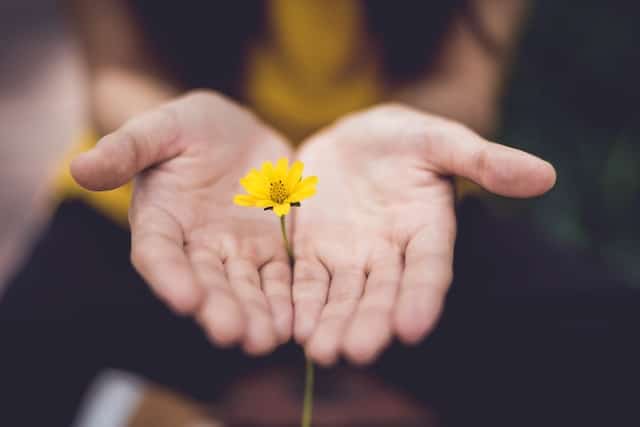 Save up to 88% with our Bundles
This script has been crafted with love and formatted in a clear, organized layout, making it easy to read aloud for individuals or groups. It is suitable for personal and professional use, including YouTube videos and monetization, and for voiceover recordings.
Use this script to lead your own meditation, edit or alter the script to suit your needs, use it in courses you create and sell, or use it privately with your clients.
Instant Download
Digital Download
Digital file type(s): 1 PDF
Your files will be available to download once payment is confirmed
Frequently Asked Questions