Looking for meditation music can feel like a daunting task. You open up website after website only to discover that what was advertised as free actually comes with a price tag.
It's frustrating!
That's why we're here to help. We've searched high and low to find the best websites that offer free guided meditation music that you can actually use.
Yes, you read that right, free! No loopholes or hidden fees.
Just good, quality music to enhance your guided meditation. Trust us, we know that finding free meditation music can be a tricky business, so go ahead and check out our list of the best websites to download and use without any restrictions.
1. Pixabay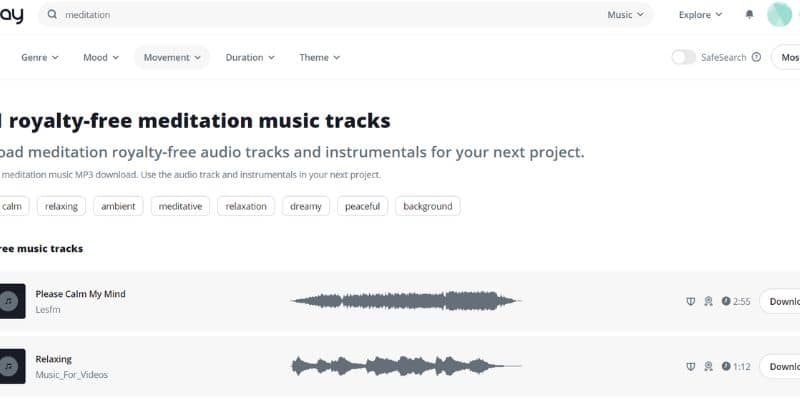 When we think of Pixabay, we often think of stunning imagery that we can incorporate into our presentations, blogs, and websites. But did you know that their library extends far beyond photography?
It turns out that Pixabay has a collection of 2,331 royalty-free meditation music tracks and instrumentals that are perfect for your next project!
Whether you're creating a guided meditation recording or just need some relaxing tunes for your videos, Pixabay has got you covered.
And the best part? You don't have to break the bank to use them. So, go ahead and explore their music collection – your stress levels will thank you later.
>> Click here to download free meditation music from Pixabay.com
2. Chosic.com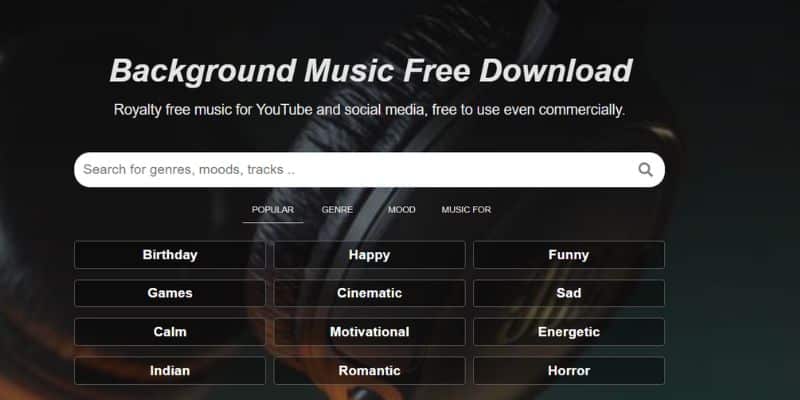 If you're looking for some great background music for your next project, look no further than Chosic.com!
Not only do they offer a diverse range of free music options, but their tracks are available for both commercial and non-commercial use, too. Whether you're a filmmaker, podcaster, or content creator of any kind, Chosic.com has got you covered.
So why not add a little extra sparkle to your next project with some awesome background music from Chosic.com? It's free, it's easy, and it's a great way to make your work stand out from the crowd!
>> Click here to download free meditation music from Chosic.com
3. AudionautiX.com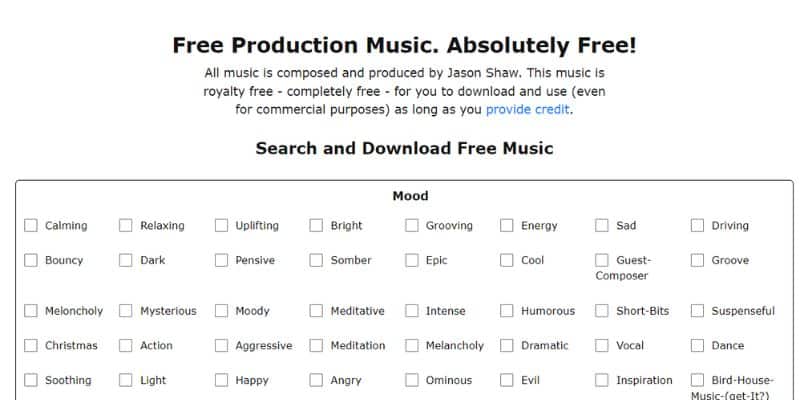 If you're looking for music that can help you connect with your inner self and find your life's purpose, Audionautix.com has got you covered.
And if that doesn't work, it can also lull you to sleep with its soothing soundscapes. All of the music on the website is created by Jason Shaw, and the best part is that it's completely free to download and use, even if you're planning on using it for commercial purposes.
So go ahead and get lost in the rhythms and melodies of Audionautix.com and let it guide you to your true calling.
Don't forget to give them credit though, it's only fair.
Click here to download free meditation music from AudionautiX.com
4. Marumeditation.org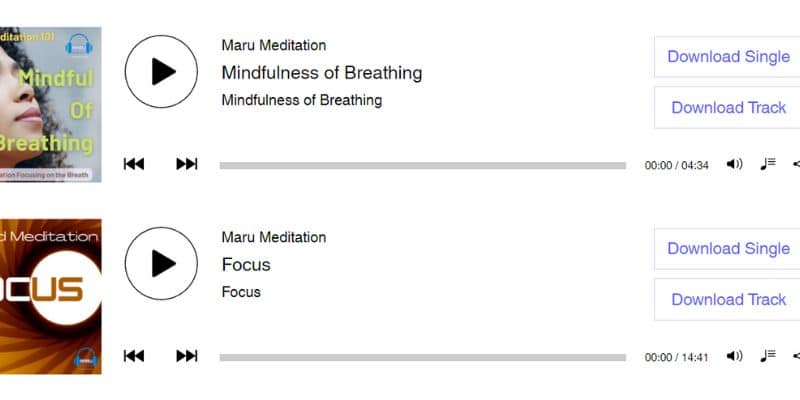 Maru Meditation is a nonprofit organization dedicated to teaching people the art of meditation. Their goal is to help you learn how to meditate properly so that you can experience the many benefits that come with a regular meditation practice.
They offer six free guided meditations and binaural beats, available for download on their website.
Every download helps support our mission to heal 300 recovering addiction treatment centre patients every year and teach 5000 children how to meditate.
If you find these audios beneficial, please consider making a donation to help them continue their work.
>> Click here to download free meditation music from Marumeditation.org
5. Mixkit.co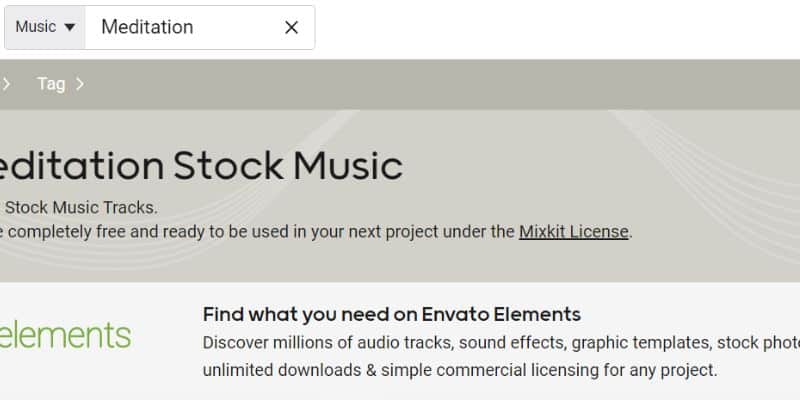 Mixkit is a free gallery of stock video clips, music tracks, sound effects, and video templates brought to you by Envato Elements.
They make it easy to create stunning videos and audio projects with their ever-growing library of resources.
And the best part? All of their audio tracks, including 52 Free Meditation Stock Music Tracks, are completely free to use under the Mixkit License.
So whether you're working on a personal passion project or a professional production, they've got you covered. Join their community of creators and start bringing your ideas to life today.
>> Click here to download free meditation music from Mixkit.co
6. Fesliyanstudios.com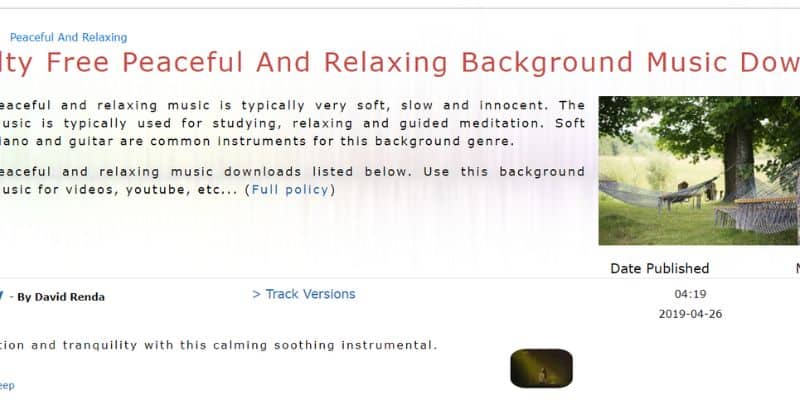 If you are in need of some background music that will help you create your next project, look no further than Fesliyan Studios!
With a focus on peaceful and calming music, they offer a variety of soft and innocent sounds that are perfect for studying, meditating, or simply chilling out.
They have guest composers and producers bringing their unique styles to the library, creating an ever-expanding collection of beautiful, soothing tunes.
Soft piano and guitar are just a few of the instruments you'll hear in this genre. So next time you need music for your video or YouTube channel, remember Fesliyan Studios for the perfect background sounds.
>> Click here to download free meditation music from Fesliyanstudios.com
7. Free-stock-music.com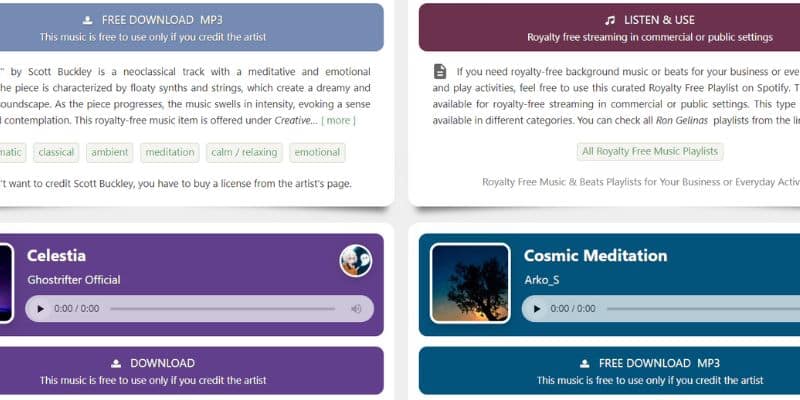 Are you a content creator looking for the perfect background music for your latest video? Look no further than Free-stock-music.com!
This platform offers an extensive collection of royalty-free music that is perfect for anyone creating monetized or non-monetized social media content, vlogs, movies, animations, and more.
With a small team of passionate music producers and art enthusiasts, they strive to promote a diverse range of genres and artists.
But that's not all – if you're a fan of guided meditation, Free-stock-music.com also has a fantastic selection of relaxing music to help you create your next recording. Give them a try and take your content to the next level!
>> Click here to download free meditation music from Free-stock-music.com
8. Radiosrichinmoy.org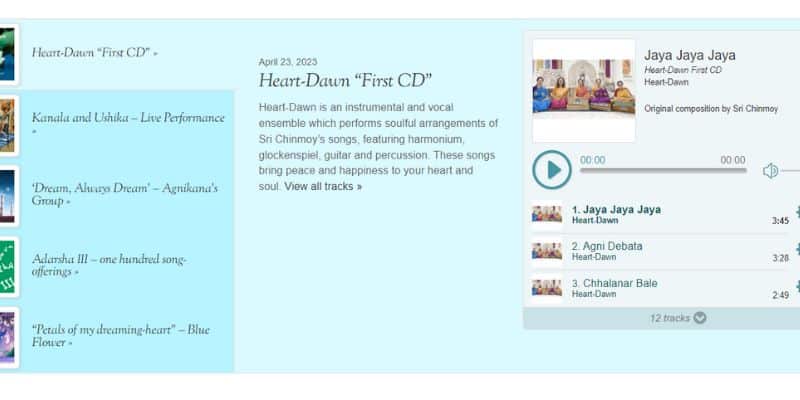 If you're looking for some spiritual and meditative music, Radio Sri Chinmoy might just be the perfect place for you.
This website boasts of having one of the largest archives for this type of music, and you'll find that most of the music is composed by spiritual Master Sri Chinmoy himself.
What makes it all the more special is that the music is created from a very high meditative consciousness, which means that it's not just about notes and melodies, but it's also about the energy and intention behind it.
You'll also find some inspiring talks, interviews, and meditation exercises on the site, which are all aimed at helping you connect with your inner self.
Best of all, all tracks on the site are free to download and share, so go ahead and spread the good vibes!
>> Click here to download free meditation music from Radiosrichinmoy.org
9. Brahmakumaris.com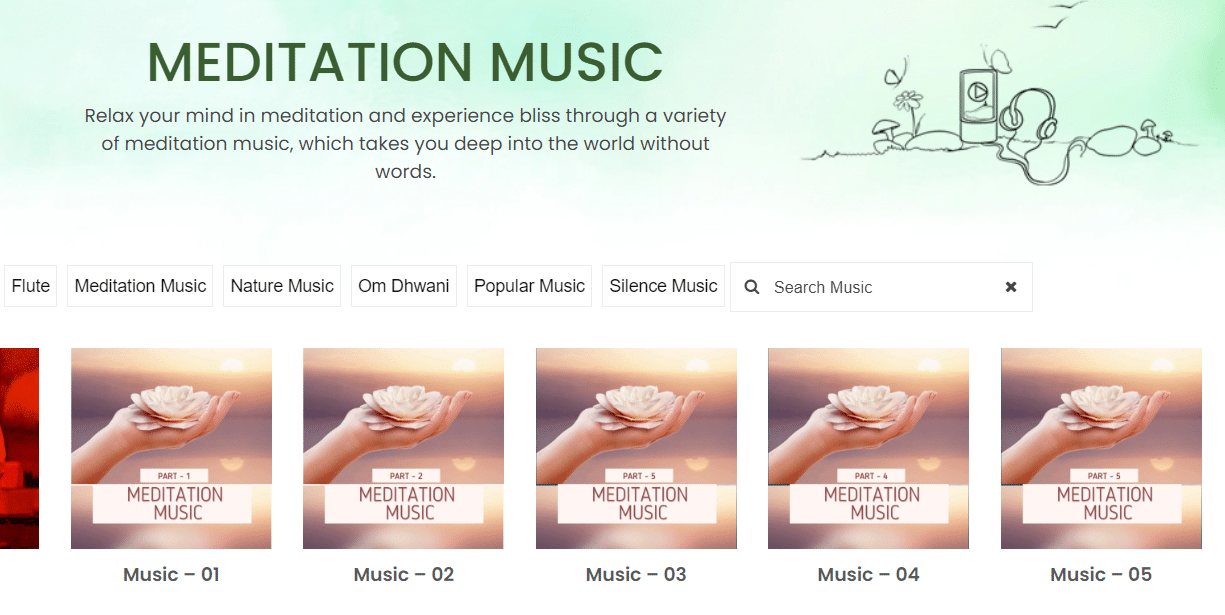 Have you ever wanted to connect with your spiritual self and experience inner peace?
Look no further than Brahma Kumaris, a worldwide spiritual movement dedicated to personal transformation and world renewal.
Founded by Prajapita Brahma in 1936, this organization has spread to over 137 countries and has had a huge impact on all sections of society.
As an international NGO, Brahma Kumaris is associated with the United Nations Department of Public Relations and is committed to helping individuals transform themselves.
One of the ways they do this is by offering a variety of meditation music, which takes you deep into a world without words and relaxes your mind for a truly blissful experience.
Join the worldwide community of Brahma Kumaris and start your journey towards spiritual enlightenment today!
>> Click here to download free meditation music from Brahmakumaris.com
10. No-copyright-music.com

Imagine being able to enjoy high-quality, enchanting music without having to worry about copyright infringement.
Well, with Liborio Conti, you can! This talented composer invests countless hours creating new, energizing music, and he offers it all to you free of charge.
Whether you're working on a project for commercial purposes or simply looking for some relaxation, Liborio's music is there for you.
He asks for nothing in return, not even attribution, but a little recognition wouldn't hurt.
And if you're a fan of his work, why not help him out by subscribing to his YouTube channel? By supporting this generous artist, you're sure to reap the benefits of his musical creations for years to come.
>> Click here to download free meditation music from No-copyright-music.com
Final Words
We hope this article has been of help to you on your journey for free meditation music. With a little bit of effort and patience, you can find the perfect background sound or instrumental piece to go along with your guided meditations.
Check out the websites we mentioned here as well as doing some extra digging on your own.
Don't forget that every journey begins with a single step! All you have to do is take it.
Good luck and thank you so much for reading our blog post!
May all your meditations be calming and tranquil experiences. Namaste.